IN THE NEWS: MASTANTUONO LAW OFFICE COMMENTS ON RECENT CHANGES IN CRIMINAL LAW.
---
Fragmented sentence: Attorneys debate early release lawsBy Jack Zemlicka, Wisconsin Law JournalMarch 28, 2011
A state budget provision that would alter and eliminate early release options for inmates could prompt criminal defense attorneys to take more cases to trial.
Gov. Scott Walker's 2011-13 state budget proposal strengthens the truth-in-sentencing laws passed more than a decade ago in Wisconsin by modifying or removing early release for many inmates.
Specifically, Walker wants to eliminate time off for good behavior for most felonies and some nonviolent misdemeanors, and he wants to replace the earned-release program with a substance-abuse treatment option for inmates with a history of dependency.
Milwaukee criminal defense attorney Mike Guerin said a lack of such incentives as earning a sentence reduction for good behavior would increase the likelihood he would take a case trail rather than strike a plea deal.
Mike Guerin
"Why not take your chances and go to trial," he said.
Milwaukee County Deputy District Attorney Kent Lovern said he doesn't expect the law change would affect the way prosecutors negotiate, although he acknowledged defense attorneys might be less inclined to accept plea deals.
"I don't think this will change how we approach cases," he said.
The changes also could result in more people unnecessarily clogging up the prison system at a time when state resources are scarce.
"You don't want someone creating a budget bill that would take away a common sense approach," said Guerin, of Gimbel, Reilly, Guerin & Brown LLP.
The current structure lets inmates serving sentences for more severe felonies earn one day of positive adjustment time for every 5.7 days served. For lesser felonies and nonviolent misdemeanors, offenders can earn one day for every two served.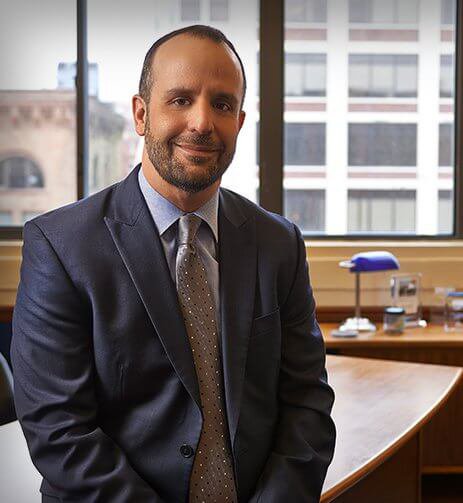 Craig Mastantuono

Criminal defense lawyer Craig Mastantuono agreed with Guerin's opinion that reverting back to stricter truth-in-sentencing laws is a mistake, but Mastantuono said he doubts lawyers would be inclined to take more cases to trial.

He argued the risk still would be too great to opt for a trial instead of an available plea deal, regardless of earned or early release provisions.

"I don't see it," Mastantuono said.
Milwaukee County Circuit Court Judge Rick Sankovitz said he will wait for the finished budget before passing judgment on whether changes would be a burden or blessing for the courts. But the presiding judge in the Felony Division is skeptical of the motivation behind the changes.
Richard Sankovitz
"If its goal is to add more punishment," he said, "then I think it just adds cost to the corrections budget without producing any greater effects."
While the changes will result in some offenders remaining in prison longer, that doesn't mean the population will spike or lead to a need for more prisons, said Linda Eggert, spokeswoman for the Wisconsin Department of Corrections.
Since implementation of the expanded earned-release last year, only 479 inmates have been released under the program, a fraction of the 9,000 or so prisoners who get out of prison each year, Eggert said.
As of Jan. 31, 14 of those released under the program went on to re-offend.
"If we revert back to truth-in-sentencing, will it increase the prison population?" she said. "I don't think you can say that at all."
While a member of the state Assembly, Walker co-wrote the truth-in-sentencing legislation, which took effect in 1999, and he has advocated ensuring offenders serve the sentences handed down by judges.
"Inmate populations can be controlled by using methods other than letting people out early who have already been sentenced," said Cullen Werwie, Walker's spokesman.
Among those methods is Walker's proposed substance-abuse program, which would let the DOC and Department of Health Services treat inmates transferred from state prison.
The program would be a dramatic change to the earned-release system, which puts eligible offenders through a six-month rehabilitation program. After successful completion, an inmate is eligible for release to extended supervision within 30 days.
Walker is proposing limiting the earned-release program to only those inmates with a history of substance abuse.
Mastantuono praised the intervention philosophy, but criticized the overall proposal as largely a political move rather than one designed to help the criminal justice system.
"It's easy to have the knee-jerk reaction that prison isn't supposed to be fun, but you need a buy-in from the offender," he said. "I see this rollback as just another page in the old debate of rehabilitation versus incapacitation, which is counterproductive."